Upcoming events

Fri, May 26, 9 pm
entropic advance (bios+a+ic/Solypsis)
Catdog
church fire
Pterrorfractyl

The Black Box Lounge
314 E 13th Ave
Denver, 21+ free/18+/$5
facebook event

Sunday, May 28, 7 pm
textures ambient showcase
Spoiled Victorian Child,
Psybrid, Secret Shiver
Mutiny Information Cafe
2 S Broadway, Denver
$5-10 donation
all ages
facebook event

May 23, 2017
Greetings from symbolic insight! We want to remind you of our two events this Memorial Day weekend in Denver. This Friday night is our first event at Black Box lounge with live sets by entropic advance, Church Fire, Catdog, and Pterrofractyl starting at 9pm, no cover. On Sunday, textures ambient showcase is at 7pm with Spoiled Victorian Child, Psybrid, and Secret Shiver. Listen to the recent radio shows from bios+a+ic to hear new music from Denver and beyond at http://www.afterfm.com/Biostatic. Watch the recent live performance by unbridled sonic Anarchy mixed with video by 75 Ohms, https://www.youtube.com/watch?v=iOmwssPI-bA.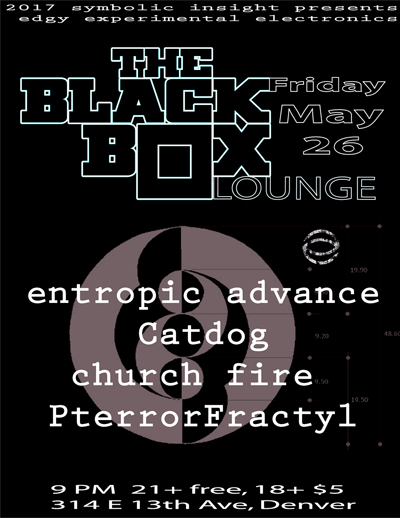 Featured Releases

EARA by EARadiate

Recorded at Microtone studios, this album features Kris Nickeson on guitar, Joe Sorcic on drums, Wesley Davis on trumpet/synth, with Charlie Milo, Ryan Peru, & Paul Mimlitsch covering bass tones. Groovy experimental avant jazz meets ambient noise space,
RIYL 'on the corner' Miles Davis, Zappa jazz styles, Tortoise, or Jon Hassel. https://earadiate.bandcamp.com/releases



Intifada by sonolumina

bios+a+ic and bahiya release their second album for sonolumina. Experimental tribal electronic rhythms mixed with numerous acoustic instruments and percussion including, violin, trumpet, flute, vocals, zils, singing bowls, dumbek, and shehnai. Industrial noise with thick synth bass drops root ethereal sounds and field recordings which capture the listener to experience the Intifada (uprising) of power for the people. RIYL Muslimgauze, Niyaz, Solace, Beats Antique, Dead can Dance https://sonolumina.bandcamp.com/album/intifada


intoning silence by bios+a+ic + Intonarumori

This album was recorded in 2003 at symbolic insight's cave studios, Seattle, WA. It was for a project called intoning silence which played a couple shows featuring Wesley Davis and Kevin Goldsmith. It is an experimental post-industrial soundtrack.
https://biostatic.bandcamp.com/album/intoning-silence




Scukar by bios+a+ic + Of Earth And Sun

Recorded in April of 2014 at symbolic insight studios, Denver, CO. It is a dark ambient drone album with chants, bone trumpets, and processed trumpet taking the listening into the deep realms of the shadow self.
https://biostatic.bandcamp.com/album/scukar





symbolic insight now has 36 of our albums available for commercial-free streaming and download purchase options at https://symbolicinsight.bandcamp.com/

Thanks for your interest and support of independent experimental sound and visual art!
https://www.reverbnation.com/label/symbolicinsight
https://twitter.com/symbolicinsight
https://www.facebook.com/SymbolicInsight/



---