Upcoming events

Thursday, November 12
Snails And Oysters,
bios+a+ic, kid mask
Skylark Lounge
140 S Broadway, Denver 21+, 9 pm, no cover

Friday, November 27
(Thursday at midnight)
Muslimgauze Tribute 3.0
bios+a+ic hosts
Sleepless Nights
12-3 am MST
KGNU Boulder: 88.5 FM/93.7 FM
Denver:1390 AM
kgnu.org/ht/listencomp.html

Sunday, November 29
textures ambient showcase presents,
bahiya, MINGO, Mondo Obscura
Mutiny Information Cafe, Denver
7 pm, all-ages, $5 donation
symbolicinsight.com/textures/



November news
Greetings from symbolic insight for November 2015. This Thursday night (Nov. 12) bios+a+ic will be joined by drummer, Joe Soric, for a live set a the Skylark Lounge with kid mask and Snails And Oysters. bios+a+ic hosts KGNU's Sleepless Night on 4th Fridays, this month presenting the Muslimgauze Tribute 3.0, which he will play 3 hours of music from the artist. Last Sunday brings textures ambient showcase on the 29th with a rare solo performance by bahiya as well as MINGO and Mondo Obscura at the Mutiny Information Cafe. We would love to see you at an upcoming event!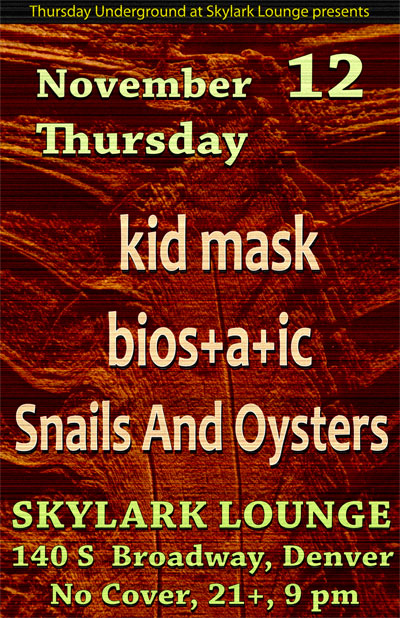 Featured Releases
These are releases that feature bahiya.


Sci-fi horror by unbridled sonic Anarchy (üsA)
Sci-fi horror is the debut studio album by unbridled sonic Anarchy, recorded at symbolic studios in sessions between 2012-14. The release is a fictional film soundtrack created for a movie which exists only in your imagination. It features bahiya on multi-effects processed, manipulated, & sampled loops of violin & voice and bios+a+ic on synthesizer, effects processing, sampled loops, engineering, and mastering. (ambient noise soundtrack) Listen and purchase at http://unbridledsonicanarchy.bandcamp.com/




solar logos by sonolumina
The debut album by sonolumina created at symbolic insight studios by bios+a+ic and bahiya over a six-year period. The music features a variety of source by musicians which was reworked and processed to create a new innovative sound. Nine unique tracks take the listener on a journey from modern American belly dance fusion around the world to Eastern inspired IDM grooves which draw from both current electronic trends and ancient tribal traditions.
http://symbolicinsight.com/sonolumina/releases.htm



entropic advance, Industrial Noise Control
INC was recorded in the mountains of Nederland, Colorado in 2010-11 and produced by bios+a+ic. This full-length album features beat work, monome processing, and guitar by circle six, processed & looped violin & vocals by bahiya, and processed & looped trumpet, vocals, synthesizer, metal percussion, samples, & bass by bios+a+ic. Glitchy industrial beats decay into chaos with heavy drones, ambient textures, ethereal melodies, thick bass, and experimental noise. https://entropicadvance.bandcamp.com/album/industrial-noise-control

symbolic insight now has 25 of our albums available for commercial-free streaming and download purchase options at https://symbolicinsight.bandcamp.com/

Thanks for your interest and support of independent experimental sound and visual art!