Upcoming events

Thursday, April 7, 7 pm
SNOG (Australia), Labrynth, Solypsis, bios+a+ic, DJ Mudwulf
3131 Walnut St
Denver, Colorado 80205
$15.00 tickets, 21+, www.thewalnutroom.com/
event/1112817-snog-denver/

Friday, April 22,
(Thursday at midnight)
bios+a+ic hosts Sleepless Nights-12-3 am MST
Boulder: 88.5 FM/93.7 FM, Denver:1390 AM kgnu.org/ht/listencomp.html

Sunday, April 24, 7 pm
textures ambient showcase_ Darwin Grosse, metlay, Quest
Mutiny Information Cafe,
2 S Broadway, Denver
$5.00 suggested donation, all ages
symbolicinsight.com/textures
Facebook event

Saturday, April 30, 9 pm
bios+a+ic hosts Electronic Air radio, 9-11 pm & Under the Floorboards, KGNU, 11 pm-12 Boulder: 88.5 FM/93.7 FM, Denver:1390 AM kgnu.org/ht/listencomp.html



April news
Spring greetings from symbolic insight! This Thursday bios+a+ic & solypsis (of entropic advance) will both perform solo sets opening for legendary Australian act, SNOG, at the Walnut Room (tickets still available). unbridled sonic Anarchy (üsA) released their second studio album of spooky ambient noise entitled haunted which is available now from symbolic insight. Synth_Drone collective performed April 1 to a packed house for the 1st Lafayette Electronic Arts Festival (LEAF), hear their new album today. bios+a+ic returns to the radio airwaves for KGNU shows on April 22 (sleepless nights) and April 30 (electronic air/under the floorboards).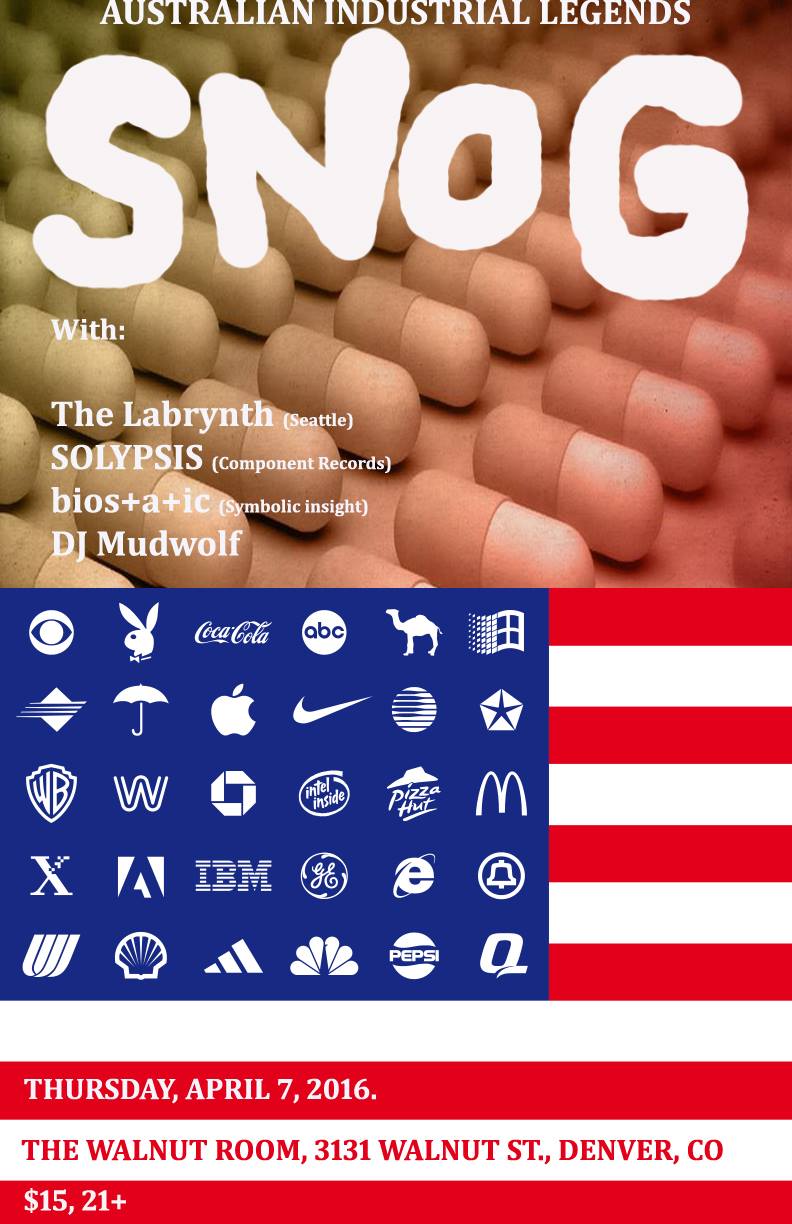 Featured Releases

Haunted by üsA (unbridled sonic Anarchy)
The second release from the ambient noise duo is a soundtrack for a horror movie yet to be made. It features bahiya on processed & looped violin and bios+a+ic on synthesizer manipulations, processed trumpet, and theremin. Pulses, glitches, drones, and spooky noises morph together for over an hour of new sounds. Produced, engineered, and recorded by wesley davis at symbolic insight studios, Denver, Colorado. https://unbridledsonicanarchy.bandcamp.com/album/haunted


Fata Morgana by bios+a+ic
Fata Morgana is a collaboration album culminating from over a year of playing live shows with the players in various combinations and with the band, Kappa Cell. The studio session was improvised and recorded live at Microtone studios with additional bass synthesizer added post by bios+a+ic. It is a fusion of avant jazz, ambient space, experimental electronics, and noise textures. https://biostatic.bandcamp.com/album/fata-morgana


Synth_Drone collective, Ambient Radiation (new)
5 synthesizer wizards, each with one synth /effects, performed together for textures ambient showcase and recorded this album. bios+a+ic, Wes Milholen, kuxaan-sum, Sean Patrick Faling, and Mark Mosher are featured on 6 tracks for over an hour of ambient space and deep drones, edited and mastered by Wesley Davis. Recommended if you like Experimental Audio Research, Steve Roach, and Brain Eno. https://symbolicinsight.bandcamp.com/album/ambient-radiation

In support of the new economic model for donation based businesses and because we want this music available to as many people as possible, symbolic insight is offering these albums as "name your price" releases. All symbolic insight albums are written/produced by original sound artists, professionally recorded, engineered, and mastered. Please support our producers & artists financially as you feel inspired, if you are unable pay now simply enter '0' as the amount. Thank you for your interest and support in our experimental, underground, and independent music label.

symbolic insight now has 28 of our albums available for commercial-free streaming and download purchase options at https://symbolicinsight.bandcamp.com/

Thanks for your interest and support of independent experimental sound and visual art!