Upcoming events

Thursday, March 12
9 pm, 21+
DRONES, entropic advance, kuxaan-sum, dj ProfanAeon, kidmask (video)
3 Kings Tavern, 60 S Broadway, Denver, CO
- http://3kingstavern.com/event/198530
- facebook event

Friday March 13th
8 pm, all-ages
The Kappa Cell, Carrot Eater Music, Channel Strange, dj CATDOG
Mutiny Information Cafe, 2 S Broadway, Denver
facebook event

Saturday, March 21
9 pm, 21+
The Kappa Cell, Keldari Station, dj Reid the Red, & Triggersad
The Toad Tavern, 5302 S Federal Cir Ste A, Littleton, CO
facebook event

Friday (Thursday at midnight), March 26
12-3 am MST
bios+a+ic hosts Sleepless Nights- free form radio on KGNU
Boulder: 88.5 FM/93.7 FM, Denver:1390 AM
http://www.kgnu.org/ht/listencomp.html

Sunday, March 29
7 pm, all-ages
textures ambient showcase, Acidbat, James Jewkes, Mad Dog Friedman
Mutiny Information Cafe, 2 S Broadway, Denver
facebook event


March news
Greetings as we spring into March at symbolic insight. bios+a+ic has been working hard in the studio, hosts monthly radio show, textures ambient showcase and will be performing with The Kappa Cell and entropic advance. We look forward to some excellent shows this month in Denver, see our calendar for details.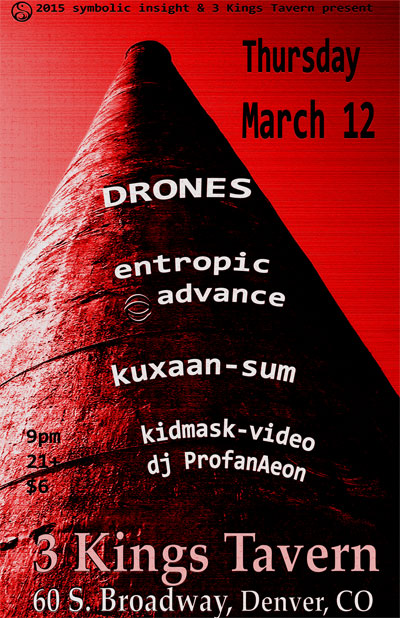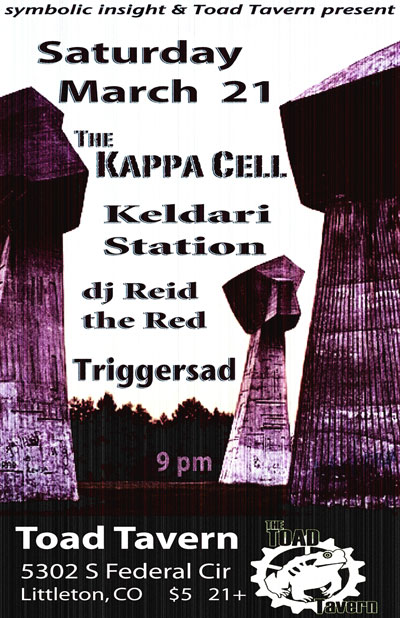 Featured releases

This months featured releases are all pay what you can or FREE to download.

auditory pareidolia by entropic advance
auditory pareidolia is the debut album by bios+a+ic and Solypsis, as entropic advance. With similar influences and experiences, these two sound artists found it easy to work together to create a fresh innovative sound with this release on Component Recordings. Using a vast array of electronic music styles as the base, the duo has created a distinctively original collection of tracks, which flow from ambient space to over driven noise with a smooth deliberate intent. (ambient, experimental, industrial, IDM, trance, noise)
http://componentrecordings.bandcamp.com/album/entropic-advance-auditory-pareidolia

subduction by bios+a+ic & xaxis wye
subduction is a collaboration between bios+a+ic and xaxis wye recorded at symbolic insight studios in Seattle, Washington in 2004 and produced by bios+a+ic. He also created sample glitch rhythms by looping cord buzzes and thick drones. xaxis wye improvised manipulated sounds from his personal collection of handmade module wave generators. The albumís sound is reminiscent of molten lava crackling through gaping holes in the Earth. http://biostatic.bandcamp.com/album/subduction

transistor, a compilation of electronic sound art
Documenting the acts who performed at the first transistor sound art festival in Denver, Colorado June, 2007.
http://symbolicinsight.bandcamp.com/album/transistor

Thanks for your interest and support of underground independent sound and video art!