Upcoming events

RADIO
July 25, Friday, 12-3 am (Thurs.@midnight) bios+a+ic hosts Sleepless Nights radio, free form music show, http://www.kgnu.org/index.html. Listen to last months show, http://www.kgnu.org/sleepless/6/27/2014

LIVE MUSIC
July 26, Saturday at 9 pm
unbridled sonic Anarchy (symbolic insight), Of Earth & Sun, The KappaCell, Throat Of The Universe, Blood Corpse Of Necrotic Damnation, Visuals by PERU
Bar Bar (Carioca Cafe)
2060 Champa, Denver, Colorado 80205
https://www.facebook.com/events/299432973549573

July 27, Sunday, 7 pm, all-ages
textures ambient showcase presents, offthesky & radere, bios+a+ic (symbolic insight), Cloudless Rain, I-Serien Mutiny Information Cafe, 2 South Broadway, Denver, Colorado 80209 http://www.symbolicinsight.com/textures

August 9, Saturday, 9 pm, 21+
Dj bios+a+ic with Slim Fadey/Faded Freakshow's "Night Of Future Vaudeville", Keldari Station, Carrot Eater
Tennyson's Tap, 4335 W 38th Ave, Denver, Colorado 80212

August 13, Wednesday, 9 pm, all-ages
bios+a+ic (symbolic insight) with SEDIMENT CLUB (PROVIDENCE), T2, DUGOUT CANOE
Rhinoceropolis, 3553 Brighton Blvd, Denver, Colorado 80216
Greetings from symbolic insight! We are busy in the studio recording new albums with sonolumina, entropic advance, and bios+a+ic collaborations with Of Earth and Sun, also A23P & Acidbat. textures ambient showcase has been successfully relaunched at Mutiny Information Cafe each LAST Sunday of the month. Check out our featured releases, listen to archives, and join us at an upcoming event.

Here is a live edit of bios+a+ic with Morlox from last month Solstice gathering,
http://soundcloud.com/biostatic/biosaic-morlox-live-solstice-06-21-14

Here is the full set by unbridled sonic Anarchy, live at Denver Noise Fest,
http://soundcloud.com/biostatic/biosaic-morlox-live-solstice-06-21-14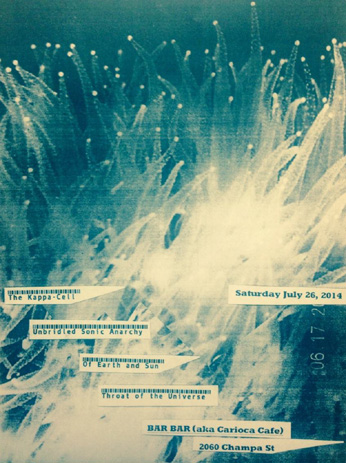 ---

Featured Releases

Sci-fi horror by unbridled sonic Anarchy (usA)
Sci-fi horror is the debut studio album by unbridled sonic Anarchy, recorded at symbolic studios in sessions between 2012-14. The release is a fictional film soundtrack created for a movie which exists only in your imagination. It features bahiya on multi-effects processed, manipulated, & sampled loops of violin & voice and bios+a+ic on synthesizer, effects processing, sampled loops, engineering, and mastering. (ambient noise soundtrack)
Listen and purchase at http://unbridledsonicanarchy.bandcamp.com/


auditory pareidolia by entropic advance
auditory pareidolia is the debut album by bios+a+ic and Solypsis, as entropic advance. With similar influences and experiences, these two sound artists found it easy to work together to create a fresh innovative sound with this release on Component Recordings. Using a vast array of electronic music styles as the base, the duo has created a distinctively original collection of tracks, which flow from ambient space to over driven noise with a smooth deliberate intent. (ambient, experimental, industrial, IDM, trance, noise)
http://componentrecordings.bandcamp.com/album/entropic-advance-auditory-pareidolia



entropic advance, bios+a+ic, and usA are currently booking summer events in Colorado and the Southwest.

Thanks for your interest and support in underground experimental music.