Upcoming events

Thurs, July 23, 8 pm
entropic advance (album release, prism cell) (ghost) [n5md artist], kid mask, DJ Mudwulf, visuals by Peru The Walnut Room, 3131 Walnut St, Denver, 8 pm, $6, 21+
Facebook Event
Tickets

Sunday, July 26, 7 pm
textures (Special Harsh Noise Edition) - page 27, Yao Guai, solypsis, (A)Sex Mutiny Information Cafe, 2 S Broadway, Denver, 7pm, $5 donation, ALL-AGES Facebook event



July news
Greetings to you from symbolic insight record label and productions. entropic advance has released the new album, prism cell, which is a culmination of two years of recording features bios+a+ic and solypsis. Join us for the release show on July 23 at the Walnut Room for an amazing night of new IDM electronics. textures ambient showcase celebrated one year at the Mutiny in June and will host the first Harsh Noise Edition during the UMS festival on July 26.

Read this insightful interview with bios+a+ic by Tom Murphy via the Westword about textures, http://www.westword.com/music/textures-celebrates-one-year-of-bringing-ambient-music-to-new-audiences-6841713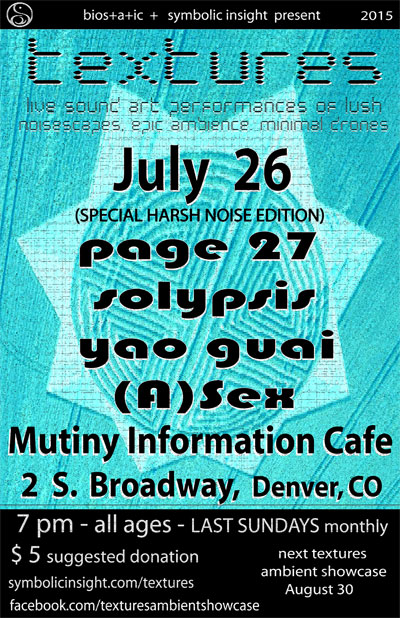 Featured Release

prism cell by entropic advance
Spacious ambient trumpet & synthesizers blend with morphing noise rhythms, layered with sampled textures and whisping vocals. Prism cell brings together the roots of electronic, ambient, and noise music with custom created sound pallets for this edgy, powerful album, blurring man and machine, a soundtrack for the new world in which we live. Commercial free streaming & purchase: https://entropicadvance.bandcamp.com/album/prism-cell


cloudLanD by bios+a+ic
The album cloudLanD by bios+a+ic was created to aid in relaxation, meditation, and sleep. The pulse beat tempo gradually slows down, calming bio-rhythms. The music patiently resolves tonality and gently drifts into the ether. The album was inspired by the clouds in the sky and recorded while living in Nederland, Colorado, based high in the mountains. Primary sound source is multi-effects processed trumpet, re-sampled, and looped in layers, with pulse rhythms and chimes blowing in the wind.
Commercial free streaming & purchase:
https://biostatic.bandcamp.com/album/cloudland

also new from Backwards Records
bios+a+ic has a track on the new album from Blackcell featuring remixes from their album,"In the Key of Black". https://blackcell.bandcamp.com/track/waiting-room-waiting-room-on-the-moon-mix-bios-a-ic

symbolic insight now has 25 of our albums available for commercial-free streaming and download purchase options at https://symbolicinsight.bandcamp.com/

Thanks for your interest and support of independent experimental sound and visual art!