Upcoming events

Thurs, Jan 28, 9 pm
entropic advance, ANIMAL/object, page 27, Snails And Oysters, orchidz3ro
Syntax Physic Opera, 554 S Broadway, Denver, 21+, $5.00 cover
Facebook event

Sat, Jan 30, 9 pm
bios+a+ic & Acidbat host Electronic Air radio, 9-11 pm
& Under the Floorboards, 11 pm-12
Boulder: 88.5 FM/93.7 FM, Denver:1390 AM
kgnu.org/ht/listencomp.html

Sun, Jan 31, 7 pm
textures ambient showcase - A23P, Foans, Brother Saturn
Mutiny Information Cafe, 2 S Broadway, all ages, $5 donation
Facebook event



January news
Greetings and happy 2016 to you! We at symbolic insight are very excited for this year as we are hitting the ground running with live shows and new music for you. bios+a+ic releases a new studio album, Fata Morgana, which features a live band (Reid Felecos, James Jewkes, Joe Sorcic) and fuses jazz with noise music. Many thanks to Kris Nickeson at Microtone studios for backing this project to the finish. entropic advance make their 2016 debut on the 28th at Syntax Physic Opera with an amazing line-up brought to you by symbolic insight, and textures ambient showcase returns on the 31st with A23P (album release show). bios+a+ic is back at KGNU radio hosting Electronic Air & Under The Floorboards on Saturday the 30th. Hear & download his most recent show archive, A Tribute to Muslimgauze 3.0 here, http://www.kgnu.org/audioarchives/SleeplessNights/2016/SleeplessNights_2016-01-22.mp3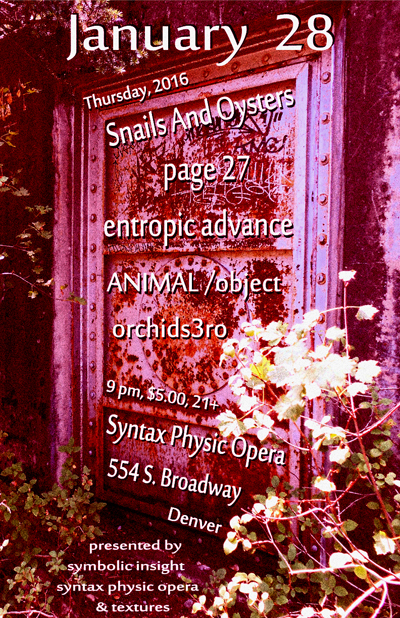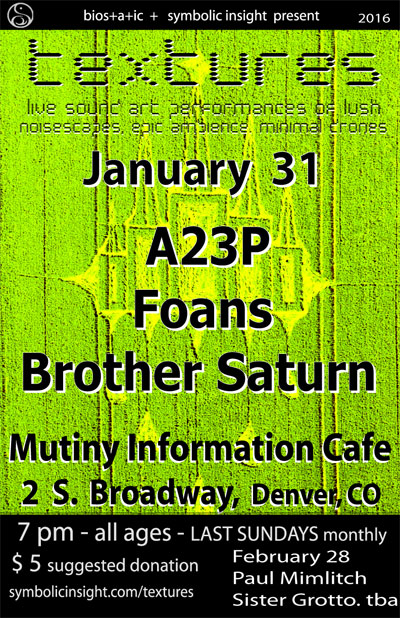 Featured Releases

Fata Morana by bios+a+ic (new, released 01-23-2016)
Fata Morgana is a collaboration album culminating from over a year of playing live shows with the players in various combinations and with the band, Kappa Cell. The studio session was improvised and recorded live at Microtone studios with additional bass synthesizer added post by bios+a+ic. It is a fusion of avant jazz, ambient space, experimental electronics, and noise textures. https://biostatic.bandcamp.com/album/fata-morgana


prism cell by entropic advance
Spacious ambient trumpet & synthesizers blend with morphing noise rhythms, layered with sampled textures and whisping vocals. Prism cell brings together the roots of electronic, ambient, and noise music with custom created sound pallets for this edgy, powerful album, blurring man and machine, a soundtrack for the new world in which we live. Commercial free streaming & purchase: https://entropicadvance.bandcamp.com/album/prism-cell

In support of the new economic model for donation based businesses and because we want this music available to as many people as possible, symbolic insight is offering this album as a "name your price" release. All symbolic insight albums are written/produced by original sound artists, professionally recorded, engineered, and mastered. Please support our producers & artists financially as you feel inspired, if you are unable pay now simply enter '0' as the amount. Thank you for your interest and support in our experimental, underground, and independent music label.

symbolic insight now has 26 of our albums available for commercial-free streaming and download purchase options at https://symbolicinsight.bandcamp.com/

Thanks for your interest and support of independent experimental sound and visual art!