Upcoming events

August 30, Sat - on air
9 -11 p.m. - bios+a+ic hosts Electronic Air radio- electronic based sounds from Denver and the world
11-12 - bios+a+ic hosts Under the Floorboards- avant, noise, sound art from the underground.
- tune into KGNU
- Stream and download August Sleepless Nights w/ bios+a+ic


August 31. Sun, 7 p.m.- live music
textures ambient showcase presents, Pythian Whispers, unbridled sonic Anarchy, Cpt Howdy Mutiny Information Cafe, 2 S Broadway, Denver, Colorado 80209 ALL-AGES welcome, $5 donation
- facebook event page
- facebook community page

September 20, Saturday
Autumnal Equinox show, Church Fire, bios+a+ic, The Terminals, Hepster Pat, tba The Deer Pile, 206 East 13th Avenue, Denver, Colorado 80203
- facebook event


August 2014

Greetings to you from symbolic insight on these last days of summer.
We are excited to announce our new bandcamp page which has our first 20 full album releases available for streaming and purchase including, transistor electronic sound art compilation (free dowload), entropic advance, bios+a+ic, sonolumina, unbridled sonic Anarchy, and XISIX. https://symbolicinsight.bandcamp.com/. We hope to see you this Sunday for usA (unbridled sonic Anarchy) live performance of synth & processed violin at textures ambient showcase in Denver!

Thanks for your interest and support in underground experimental music.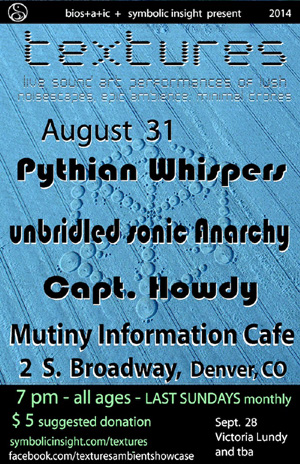 ---

Studio Updates

solypsis - rhythmic noise album with tracks selected by bios+a+ic is in mastering for a fall release.
metapulse - new collaborative of Acidbat/A23P/bios+a+ic is in the final stages of mixing/mastering for possible fall release.
entropic advance - in process of tracking the next album, 'prism cell' first of 2014
sonolumina - bahiya & bios+a+ic are currently tracking their next album, 'Intifada' (??????? intifa?at)
üsA (unbridled sonic Anarchy) - in recording process with their 2nd album and working on their first soundtrack project.
bios+a+ic - has 3 solo albums in process and a new project with of Earth and Sun

Featured Releases

Sci-fi horror by unbridled sonic Anarchy (üsA)
Sci-fi horror is the debut studio album by unbridled sonic Anarchy, recorded at symbolic studios in sessions between 2012-14. The release is a fictional film soundtrack created for a movie which exists only in your imagination. It features bahiya on multi-effects processed, manipulated, & sampled loops of violin & voice and bios+a+ic on synthesizer, effects processing, sampled loops, engineering, and mastering. (ambient noise soundtrack)
Listen and purchase at http://unbridledsonicanarchy.bandcamp.com/


auditory pareidolia by entropic advance
auditory pareidolia is the debut album by bios+a+ic and Solypsis, as entropic advance. With similar influences and experiences, these two sound artists found it easy to work together to create a fresh innovative sound with this release on Component Recordings. Using a vast array of electronic music styles as the base, the duo has created a distinctively original collection of tracks, which flow from ambient space to over driven noise with a smooth deliberate intent. (ambient, experimental, industrial, IDM, trance, noise)
http://componentrecordings.bandcamp.com/album/entropic-advance-auditory-pareidolia