Upcoming events

Saturday, August 29
bios+a+ic hosts
Electronic Air, 9-11 pm
Under the Floorboards, 11-midnite
Boulder: 88.5 FM/93.7 FM
Denver: 1390 AM
streaming (computer / mobile)
http://www.kgnu.org/ht/listencomp.html

Sunday, August 30
textures ambient showcase,
The Psybrid, Distant Research, Shawn Mlekush
Mutiny Information Cafe, Denver
7 pm, all-ages, $5 donation
Facebook event

Thursday, September 3
WIRETRAP vs. The Psybrid, entropic advance,
Snails and Oysters
9 pm, $6 cover, 21+
3 Kings Tavern, Denver
Facebook event



August news
Greetings to you. This month symbolic insight presents, textures ambient showcase at Mutiny on August 30, and entropic advance perform at 3 Kings Tavern with WIRETRAP vs. The Psybrid and Snails and Oysters on September 3. Come to a live show for a deeper experience on this new music. You can also hear bios+a+ic on KGNU radio hosting Electronic Air and Under the Floorboards on the 29th.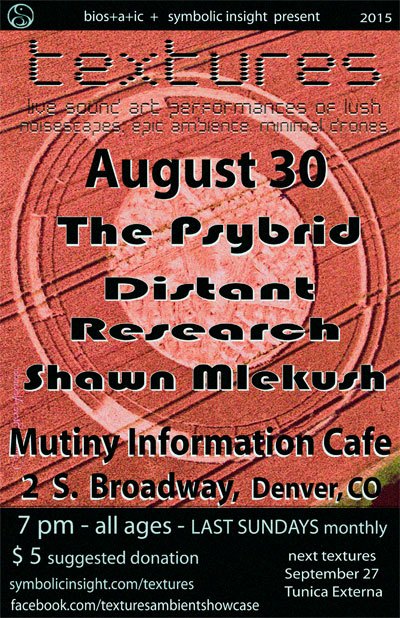 Featured Releases

prism cell by entropic advance
Spacious ambient trumpet & synthesizers blend with morphing noise rhythms, layered with sampled textures and whisping vocals. Prism cell brings together the roots of electronic, ambient, and noise music with custom created sound pallets for this edgy, powerful album, blurring man and machine, a soundtrack for the new world in which we live. Commercial free streaming & purchase: https://entropicadvance.bandcamp.com/album/prism-cell


cloudLanD by bios+a+ic
The album cloudLanD by bios+a+ic was created to aid in relaxation, meditation, and sleep. The pulse beat tempo gradually slows down, calming bio-rhythms. The music patiently resolves tonality and gently drifts into the ether. The album was inspired by the clouds in the sky and recorded while living in Nederland, Colorado, based high in the mountains. Primary sound source is multi-effects processed trumpet, re-sampled, and looped in layers, with pulse rhythms and chimes blowing in the wind.
Commercial free streaming & purchase:
https://biostatic.bandcamp.com/album/cloudland

also new from Backwards Records
bios+a+ic has a track on the new album from Blackcell featuring remixes from their album,"In the Key of Black". https://blackcell.bandcamp.com/track/waiting-room-waiting-room-on-the-moon-mix-bios-a-ic

symbolic insight now has 25 of our albums available for commercial-free streaming and download purchase options at https://symbolicinsight.bandcamp.com/

Thanks for your interest and support of independent experimental sound and visual art!